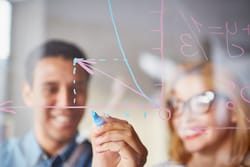 If you have a new and challenging idea for a project, and need someone to develop software for it, then DefineScope is your best bet!
Our team is proficient with a wide variety of programming languages, technologies, and platforms, and can develop applications for:
DefineScope is the best choice to develop the software for your next project: contact us and discover why!
Mobile platforms
Ever since the dawn of the 21st century, the entire world has seen a widespread adoption of mobile platforms (PDAs, smartphones, tablet computers). People now demand that information be constantly with them and at the distance of a touch, instead of having to sit in front of a desktop computer in order to access that information. Thus, it has also become paramount for any company or project to ensure its presence in these mobile platforms.
To help your company face the challenges presented by this new kind of platform, DefineScope provides you its mobile application development services and expertise, for the following platforms:

Windows Mobile
Used in the enterprise market, in a variety of equipments.
Regardless of the purpose of your mobile application – to present products, open new communication channels with customers, or others – you can count on DefineScope to help you expand your presence into this new world of mobile platforms!
Don't lose potential customers because they can't find you on their smartphones!
Be where they are:
contact us today
, and become mobile!
Web
Considering the world today, in which the Internet is everywhere, terms like "online", "connected", or "e-business" have become commonplace to everyone's daily life. If some years ago software being Internet-enabled was considered optional or superfluous, nowadays this type of feature is considered essential, and can be the deciding factor for a potential client to forego your business for a competitor's offer.
So that your company can distinguish itself in this brave new world that the Internet has brought us, DefineScope provides you its services:

Web application development
We develop custom web applications for the following platforms:

CMS configuration and customization
We configure and customize your content management system (CMS), so that it is a perfect fit for your needs!
We can help you with the following systems:

Website development
We develop various kinds of website, such as:
Responsive website: a single website that adapts to the various devices in which it is viewed!
Website with normal and/or mobile versions: a website that presents different content and features depending on the device in which it is viewed.
For more details on the website development that we can provide to you, please
look at our Web Development offer
!
Establish your foothold on the Internet!
Contact us
, and be everywhere your future customers are!
Desktop
The ever-increasing popularity of the web and of mobile devices notwithstanding, desktop-based applications have not lost their place in the enterprise's day-to-day routine. Featuring objectives with varying levels of complexity – from the simple access and manipulation of information stored in databases to something such as the modeling, implementation, and maintenance of systems and business processes – desktop applications continue to present themselves as an added-value for a company's operation.
So that your company's business processes can be better supported by your IT infrastructure, DefineScope provides you its desktop application development services, for the following platforms:

Linux
Typically free, there are several distributions for beginners and for experienced users.
Increase the productivity of your company's desktop systems!
Contact us
, and find out how we will help you!