About DefineScope
DefineScope is a software development and consulting company, specialized in the development of web and mobile applications and technology. We are well-versed in a wide variety of technologies, and always open to new and exciting projects that can take the combination between technology and people's daily lives to new limits!
DefineScope: defining news!
RSS
DefineScope announces the release of its newest game, Animino, on Google Play.
What we do for you
Web Development

DefineScope is experienced in
web development
, as well as the development of
websites and online stores
for various business areas. Look no further for your next website!
Software Development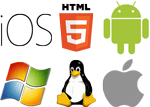 DefineScope is experienced in the development of software for
mobile, web, and desktop platforms
. We are the right choice for implementing your next project!
IT Consulting

Does your company need help in
implementing a software project
? Maybe you need to
adapt your IT infrastructure
to address your unique business challenges? DefineScope can help!