About DefineScope
DefineScope is a software development and consulting company, specialized in the development of web and mobile applications and technology. We are well-versed in a wide variety of technologies, and always open to new and exciting projects that can take the combination between technology and people's daily lives to new limits!
DefineScope: defining news!
RSS
DefineScope is Empresa Aplauso 2017!
DefineScope is very happy to announce that it has been awarded the status of Empresa Aplauso 2017 by Millennium BCP Empresas!
What we do for you
Software Development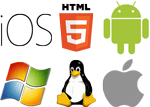 DefineScope is experienced in the development of software for
mobile, web, and desktop platforms
. We are the right choice for implementing your next project!
IT Consulting

Does your company need help in implementing a software project? Maybe you need to adapt your IT infrastructure to address your unique business challenges? DefineScope can help!
Training

DefineScope provides training on a wide variety of IT-related subjects, such as programming, modeling, model-driven development, or software project management!